Plasma tu idea. Dibuja, tacha, escribe, colorea, aboceta, traza, siluetea, sombrea, marca, señala, raya, frota, firma... usa el lápiz - o no- como quieras en la postal blanca.
Para participar envianos un email y te enviaremos por correo el lápiz iDea y el papel .
Fecha límite Proyecto abierto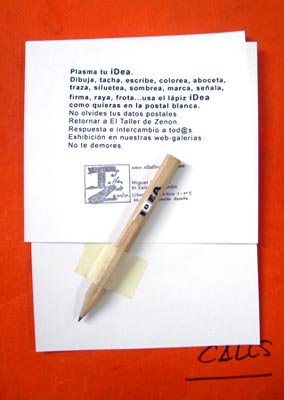 Embody your idea. Draw, cross, write, colour, sketch, outline, shade in, mark, highlight, line, rub, sign...use your pencil - or not- on the white card as you please.
To participate send us an email and we will send you by mail the pencil iDea and the paper.
Deadline
Open project